Portage Health Foundation is a 501(c)(3) charitable organization serving Michigan's Copper Country, which includes Baraga, Houghton, Keweenaw and Ontonagon counties.
Below you'll find our mission, vision, values, success factors, strategic goals and outcomes, and history. This information shapes everything we do.
Mission of Portage Health Foundation
To positively influence a healthier community through enhanced philanthropy and collaboration.
Vision Statement
To influence a shared vision.
To foster collaborations and partnerships.
To build community capacity to shape outcomes.
Values
Integrity – We will be open, honest, and transparent in our administration and stewardship of the community assets entrusted to us.
Commitment to the Community – We shall administer PHF in a way that is objective, responsible, and focused on long-term sustainability and impact.
Collaboration – We will work to bring perspective and experience together to fulfill our potential as we work as a broader group that represents the interests of the community we serve. This shall be done to ensure that we strive to identify, foster and maintain partnership-relations as we work to improve the health of our community.
Creative Solutions – We will work towards that which we aspire to be and will find creative, innovate and sustainable solutions to the systematic challenges that face our community's overall condition of health.
Success Factors
People – We will employ, engage, develop, and retain high-caliber employees and board directors.
Processes – We will work to ensure our administrative processes provide effective administration.
Financial Performance – We recognize that we must achieve financial goals and investment returns in order to effectively and perpetually reinvest in our community.
Communication – We will be transparent and honest in our promotion of the foundation and efforts to engage our donor community and cultivate overall public support.
Strategic Goals and Objectives
Our work is intended to improve physical, mental, emotional, and spiritual health and well-being by addressing the following long-term sustainability goals.
Increase access to education.
Mitigate poverty.
Reduce hunger and poor nutrition.
Build safe communities.
Provide access to support healthy living.
Support medical research and innovation.
History of Portage Health Foundation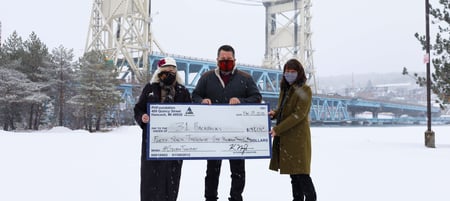 The Portage Health hospital system originally established the Portage Health Foundation (PHF) in 1990. It was the intention that PHF would provide a pathway for community support and donations to flow into the hospital and support many healthcare offerings for the benefit of the patients receiving care.
Over the next 20 years, PHF supported several key capital purchase initiatives at the hospital, which included contributions to the dialysis, oncology, audiology, community health and wellness, cardiology, diagnostics and imaging, and rehab departments. These capital contributions strengthened the hospital system's ability to meet the health needs of the community.
In December 2013, LifePoint Hospitals acquired majority ownership of Portage Health hospital. As a result of this sale, PHF -who received the proceeds from the sale of the hospital- was converted from a hospital foundation to a 501(c)(3) charitable community organization whose mission is to support the charitable health needs of Baraga, Houghton, Keweenaw, and Ontonagon counties. PHF has invested the capital assets from the hospital sale for the perpetual benefit of the community. Through charitable grants and other forms of reinvestment, PHF gives a portion of its investment-earnings back to the community each year.
We invite you to keep up with the latest happenings of Portage Health Foundation by signing up for our email newsletter. It's free and we send updates out every month. Subscribe at phfgive.org/newsletter.
PHF Branding
If you are interested in using PHF's logo or official colors, please visit our Brand Guide.
Contact Us
If you're interested in learning more about the foundation, we invite you to contact us. You can find our email addresses, phone number and address on the contact us page.