Everyone deserves an opportunity to access the outdoors, recreate and enjoy what the Copper Country has to offer. Camp Josh is one such place that is dedicated to providing outdoor recreational opportunities and education for people who have a disability of any kind. Their most popular activities include fishing, hunting and exploring the grounds of the camp.
One of the focusses of Camp Josh is to get kids with special needs and accessibility challenges in the outdoors. It is good for both our physical and mental health to spend time outside, but some people have more challenges than others accessing those spaces. One piece of that puzzle is to provide proper road access and parking for buses and those with limited mobility.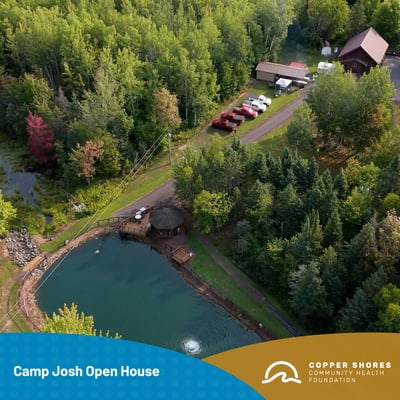 Copper Shores Community Health Foundation recently worked with Camp Josh, one of the 2022 Mental and Behavioral Health Grant recipients, to fund a parking lot and driveway out to the property.
The paved access will allow buses to easily access the camp, where they can park and safely turn around. Now that these improvements are in place, Camp Josh is better equipped to bring in more kids and enhance the space as a learning environment.
In recent years, Camp Josh served over 200 users, and plans to serve more with upgrades to the property. Camp Josh has high hopes for these plans, including a learning center on the property dedicated to education for area schools to come and visit.
Everyone is welcome to visit Camp Josh, especially adults and children with developmental and/or physical disabilities, veterans and their loved ones. Everyone can enjoy Camp Josh free of charge. This is made possible by the dedicated board and volunteers that run the camp and care for all 40 acres.
Plan your visit to Camp Josh by checking out the event calendar, and donate to support the operations. Learn more about Camp Josh online, and contact them by calling (906) 390-6336.