The Barbara Kettle Gundlach Shelter Home (BKG) has been a #GivingTuesday partner for the last five years with Portage Health Foundation (PHF) raising $143,142.87 that goes for direct services to help domestic violence victims. The services provided by the Barbara Kettle Gundlach Shelter Home creates a safe haven for all individuals who are a victim of intimate partner violence (IPV). IPV is very similar to domestic violence; however, focuses on those who were in committed relationships to the aggressor. The shelter provides non-residential services to those victims that do not meet the IPV criteria.
The shelter is a temporary safe place for individuals who have left their abusers and they can think things through and make a safety plan to follow through with their decisions. The director, Mary Niemela states, "an abuser has power and control of the victim, and this could be emotionally, financially, economically or culturally so the victim cannot leave easily and in doing so could be very dangerous." They provide the basic living needs while at the shelter and will assist the individual with means to start on their own if that's the best choice. Niemela recalls a victim coming into the shelter without shoes on because her shoes were near the sofa that he was sleeping on, and she feared walking him up.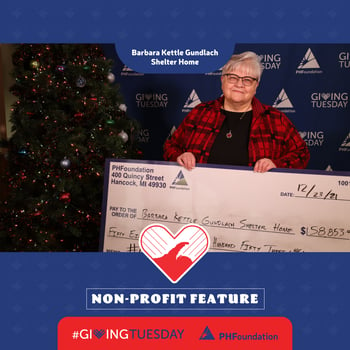 She goes on, "victims often have such a short period of time to leave their situation; if there's children, they take them and flee when the opportunity is there. Often, the police will go back to the house with the victim to get their things; however, if that can't be right away, the shelter has clothing and the basic needs for victims and the children."
How #GivingTuesday has helped BKG
Everything provided to the individuals using Barbara Kettle Gundlach Shelter Home services are funded through grants and donations within the community. There is no charge to those using their services. If a victim is choosing to leave their abuser and start over, it can be a process, especially if they have not had to work or weren't allowed to work, they don't have the financial resources. The shelter advocates help with housing referrals and all the necessary documents needed for applications. Sometimes they must help with getting a birth certificate, driver's license and other ID, so these funds may assist with paying for the fees. Referrals are made to legal services if that's the what the victim would like to do. These funds may also be needed for security deposits and first month's rent if the victim doesn't qualify for assistance.
Victims who are working or are searching for a job while living in the shelter, may need help paying for childcare or transportation to get to and from work. These donations can help pay for these expenses. Along with the logistics of what an individual needs, like housing, clothing, food and careers, the shelter wants to make this time as normal as possible for victims and their children. They celebrate birthdays for each victim, they plan a holiday party for the children who are staying or have stayed in the shelter in the past, thankfully with the help of area churches and other community resources. The Barbara Kettle Gundlach Shelter Home has been a funded shelter for 42 years with Houghton, Keweenaw and Ontonagon counties as their service area to IPV victims of all genders and their children.
#GivingTuesday 2022
Barbara Kettle Gundlach Shelter Home is a partner with Portage Health Foundation for the sixth annual #GivingTuesday in 2022.
"We appreciate every dime given in the past," Niemela said. "To have the community believe in us is vitally important to us and the people who seek our services. We face funding cuts at the State and Federal level in the next coming year and all our donations received from all our Donors is appreciated whether it's monetary or material. We are so glad the community believes we need a safe space for victims of domestic violence.
If you'd like to donate to Barbara Kettle Gundlach Shelter this #GivingTuesday, visit phfgive.org/givingtuesday. You can learn more about BKG at bkgshelterhome.org or follow them on Facebook.