This episode of
Biblio Bistro
features Carrots with Carrot Top Pesto which (unsurprisingly) highlights CARROTS! Carrots are available at Farmers Markets in mid-summer through early fall.
About
Carrots with Carrot Top Pesto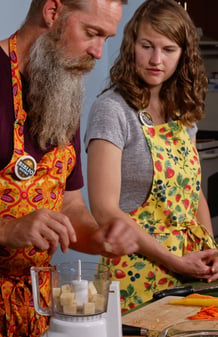 This recipe is a great way to use all parts of the carrot and reduce food waste in the kitchen! Roasting the carrots brings out its natural sweetness and pesto dressing adds a fresh, but also rich addition.

In total, this recipe was only $13.13 to prepare, or $1.64 per serving!
Healthy Eating Tips from Dietitian Meghan
Carrots & Basil

– Both of these summer treasures are a good source of Vitamin A, which is a fat-soluble vitamin. Vitamin A has been associated with immune support, skin and eye health.

Olive Oil & Nuts

– These are healthy fats that help absorb the vitamins in the dish.

Parmesan

– This type of cheese has been aged for a long time, which means it has a lower lactose content. For those that can tolerate some dairy but are lactose-intolerant, this would be a good cheese to include in your diet.

Dairy-Free Alternative

–

Nutritional yeast is a great vegan alternative to parmesan cheese in this dish. Nutritional yeast is a good source of vitamin B12, which is a nutrient that vegetarians and vegans are more commonly deficient in.

Carrot Greens (Tops)

– Carrot tops are considered to have a more bitter flavor. Bitter greens, such as carrot tops, have been found to help improve digestion and are often recommended for individuals with irritable bowel or other gut sensitivities.
Cooking Tips from Chef Michael
Instead of roasting the whole carrot, you can slice into smaller pieces to speed up the cook time. To cut similar to the recipe, check out this tutorial from Bon Appétit.

Garlic scapes can be used instead of garlic cloves. They have a milder flavor, but also have a tougher texture. If able, a food processor will help break down the scapes to an appropriate texture for pesto.

Instead of grating or using a microplane to get finely grated parmesan, you can put the chunk of parmesan in the food processor until it is finely grated. No fancy attachments needed! You can store the remaining grated cheese in the fridge until you're ready to use it again.

You could substitute any nut you prefer instead of pine nuts for pesto. Some may be more difficult to grind down in the food processor. You can also toast the nuts to release extra oil prior to adding to the pesto.
Farmers Markets in Michigan's Keweenaw Peninsula

From Calumet to L'Anse there are several great farmers markets in Michigan's Keweenaw Peninsula. Our friends at the Western U.P. Food Systems Collaborative have put together a great resource on this that gets updated regularly. Check out a full list of farmers markets here, wupfoodsystems.com/farmers-markets.
About Biblio Bistro

The Biblio Bistro series strives to show that healthy cooking doesn't have to be boring or laborious. Our goal is that by watching this series, participants can feel more confident and curious in the kitchen, all the while increasing fruit and veggie intake and supporting the local food system! Learn more about Biblio Bistro at pldl.org/biblio-bistro.
About Portage Health Foundation's Food Initiative

Portage Health Foundation is passionate about making a difference when it comes to food in Baraga, Houghton, Keweenaw and Ontonagon counties. PHF's Food Initiative is two-fold. First, the food initiative aims to improve access to locally grown and healthful foods within our community. Second, it provides educational resources and tools to promote sustainable changes to eating and lifestyle habits for all. Learn more about this initiative at phfgive.org/food.