Eagle River Residents Open the New Houghton Township Square Park
On August 23rd, Eagle River residents came out to enjoy the grand opening of the Houghton Township Square Park. The park includes a pavilion, garden, picnic benches, and plenty of equipment for kids to use when they visit.
"This application managed to re-create that space in the village, as well as create a place of recreation," said Bernadette Yeoman-Ouellette, Copper Shores Community Health Foundation Board of Directors President / Chair. "We are always looking to improve recreational facilities within our four-county area, and recent research has shown social gathering and interaction is extremely important to the well-being of our citizens. The establishment of this community green fulfills both of those needs. I am so excited to see this project come to fruition in Eagle River!"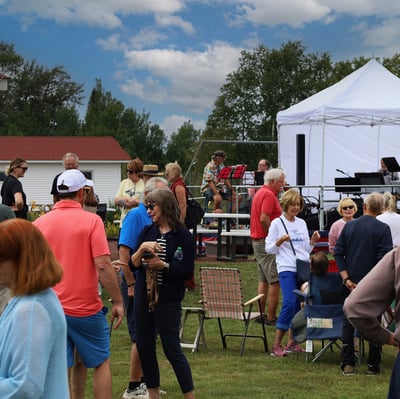 To help make the dream a reality, the Houghton Township Board sought out and received the Recreation and Facilities Grant from Copper Shores Community Health Foundation in early 2020. Though completing the project took longer than originally intended, Eagle River residents and other community members welcomed the opening of the park with excitement and anticipation.
Over the years, the park has seen varied levels of care. Thanks to Houghton Township board members on the park's planning committee, the park again has new life.
At the opening ceremony, Mel Jones, one of the committee members tasked with revamping the park, recalled going to camp in the 60s and moving to Eagle Harbor in 1980. He has watched over time as residents of Eagle Harbor and the surrounding area have given back to the community.
Despite the challenges of living in a remote and rural area, caring residents like Dan and Joanna Steck have improved both the infrastructure and experience for tourists and yoopers alike.
"We had parents who came through the depression," said Jones, "Mom and Dad said, 'You know what, you need to leave things better than when you found them.' And I would say that Dan and Joanne have done that here."
The Stecks saw the park as a place where people could go to feel the breeze, smell the flowers and trees, and connect with nature, something Dan has always enjoyed doing. He notes that before many of our ancestors were ever drawn to the Keweenaw, Native Americans lived in harmony with nature for centuries. This is something that he hopes will live on through the residents and visitors of Eagle Harbor for decades to come.
"A park like this is designed for use by the living, but many of us here today either live in or visit Eagle River because our ancestors brought our DNA to the Keweenaw," said D. Steck.
If we care for the land and enjoy it as much as our ancestors, Steck believes that our descendants can enjoy the land too. In honor of their ancestors who came together from many different cultures and found a way to live in harmony, Steck hopes that the park too can act as a space for people to come together.
They envisioned a place in which all types of people could gather and enjoy the beauty of Eagle River. The park has a wide and flat pathway for those with limited mobility, picnic benches for enjoying an outdoor meal, a garden with flags celebrating the expansive heritage of the residents of Eagle River. and plenty of playground equipment to help kids get active.
The park is open from Memorial Day to mid October and free to the public. People are welcome to use the limited recreation supplies or bring their own. To learn more about the park, visit houghtontownshipparks.com.