PHF Community Health Educator to Cater Outreach to Needs of Copper Country
Portage Health Foundation (PHF) is excited to announce the new Community Nutrition Education Needs Survey available for the community. PHF Community Health Educator Meghan Jaszczak, RD, plans to create educational community programming for healthy eating and nutrition, but first needs to know what residents are looking for.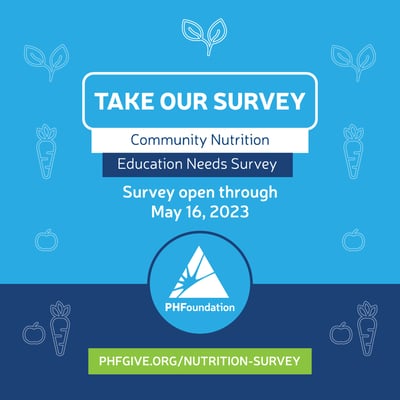 This survey is designed to gather information about the specific barriers that stand in the way of Copper Country residents obtaining and utilizing fresh and nutritious food.
The survey is available to fill out until May 16 and open to everyone in Baraga, Houghton, Keweenaw, and Ontonagon counties. PHF hopes to focus on youth and families, the aging population, and under-resourced populations.
"My goal is to tailor educational programming to what the community needs and fill the gap," said Jaszczak. "We are looking at the community as a whole and trying to get as much of an understanding about our community's unique fingerprint as possible."
By conducting a survey, Jaszczak can better shape educational outreach for community members. She wishes to explore how educational opportunities could directly reflect the specific needs of the community.
The types of outreach programming will depend on the results of the survey, but people can expect to see programming as early as the end of summer. The survey will also help shape and expand programming for 2024, and moving forward to eventually take place at the Copper Country Wellness Campus.
"Both in my work as a clinical dietitian and now at a community level, it's been very clear to me that we don't want to do a cookie cutter approach," said Jaszczak.
Jaszczak recognizes that everyone has individual needs, and wants to avoid presumptive programming that is too broad and generic to positively influence residents.
"You are your own expert in what your body needs, and what barriers you might have," said Jaszczak. "Everyone should fill out the survey, because everyone needs to eat."
The survey will be open to anyone from April 5 to May 16. PHF encourages every person to take the survey in order to better serve you, the community. Take the survey online or on paper in the lobby of the PHF office building. Paper copies can be returned to the PHF front desk on the fifth floor. If you have any questions or concerns, contact Jaszczak at mjaszczak@phfgive.org or call the PHF main office at (906) 523-5920.