Acquisition will strengthen mental and behavioral health opportunities in Michigan's Copper Country
Portage Health Foundation (PHF) is looking to strengthen mental and behavior health services in Michigan's Copper Country through the acquisition of Dial Help. The move became official on Saturday, April 1, after being approved by both organizations' Board of Directors and the office of Michigan's Attorney General.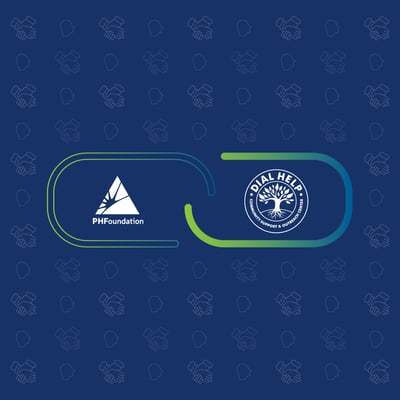 "The work Dial Help has been doing in our community for more than half a century is incredibly admirable," PHF Executive Director Kevin Store said. "We have been a partner with them since we started, and this move will do nothing but strengthen the work the caring and compassionate staff at Dial Help does on a regular basis. As we've collaborated through the years it's become more and more clear how similar our missions are. Now we'll be able to work together even closer to make our community a more healthful place."
Over the coming months PHF and Dial Help staff will work closely to optimize operations and implement key strategies meant to fill mental and behavior health gaps to better serve residents of Baraga, Houghton, Keweenaw and Ontonagon counties. All Dial Help staff, offices and services, including the Crisis Line, will continue to operate as they have.
In the long run, the centralization of operational activities such as information technology, human resources, accounting and communications will allow for more and better services related to improving mental and behavior health in the region. One example of this already underway is the recent Dial Help expansion of a mental behavior health department with the recent onboarding of Brian D. Rendel, LLP, LPC, NCC and Kim Green, LMSW, CAADC.
"I am excited for our entire team to be joining the Portage Health Foundation family," Dial Help Executive Director Rebecca Crane, MS, said. "Our shared vision of developing and providing services where supports and resources are currently lacking is much needed in our community."
Dial Help has been serving Michigan's Copper Country for more than 52 years, starting as a local all-volunteer crisis line in 1971 for those struggling with addiction and eventually serving a much larger population going through any number of personal crises. Dial Help also provides prevention programming for youth and a host of services to those effected by sexual assault and other forms of crime.
"This merger gives us collectively a strong framework to assess for and serve those individuals and families who currently do not have a place to turn," Crane said. "We are focused on evaluating and addressing those areas in our community where services are lacking or are completely absent."
You can learn more about Dial Help at dialhelp.org or by following them on Facebook, Instagram or Twitter. Information about Portage Health Foundation can be found at phfgive.org or by following PHF on Facebook, Instagram, Twitter or Subscribing to the PHF Podcast.