PHF Offers Volunteer Emergency Services Grant for the Third Straight Year
Portage Health Foundation (PHF) is happy to announce that the Volunteer Emergency Services Grant is back for 2023 and the Request for Proposal is now open. The $50,000 grant opportunity provides funding to volunteer emergency services in PHF's four-county service area that includes Baraga, Houghton, Keweenaw, and Ontonagon counties. The application is due May 19.
The Copper Country is a beautiful and peaceful place to live, with miles of lakeshore, shimmering water and seemingly endless hiking trails. Come winter, and recreation opportunities continue in the form of skiing, snowmobiling, pond hockey, ice fishing and more.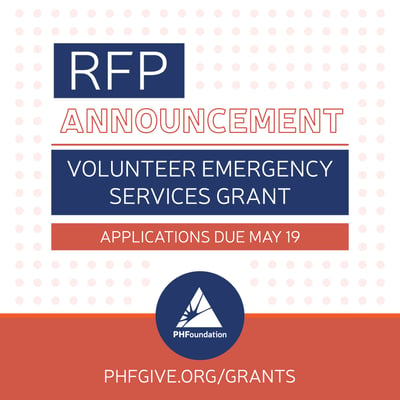 Between the dedicated, long-term residents and adventurous recreationalists flocking to the Copper Country, accidents and unexpected challenges are bound to occur. Without the emergency first responders in the area, residents wouldn't be able to enjoy living here with such confidence, and outdoor enthusiasts may not be as keen on visiting.
PHF is granting up to $50,000 for successful proposals, with a maximum of $5,000 per RFP. To be considered for an emergency service grant, a proposal must have the grant recipient paying 50 percent of the costs, up to allocation amount, the department must be registered with the State Fire Marshall's office and file all incident report, and the department must identify why the request for funding is needed and how it will enhance access to services, programs or activities that otherwise would not be possible.
Applications for the RFP are due Friday, May 19, and grants will be awarded on Friday, June 9. If you have any questions, contact PHF offices at (906) 523-5920 or info@phfgive.org before the application deadline. Learn more about the granting process at Portage Health Foundation and start your application by visiting phfgive.org/grants.
Relevant Files
Relevant Links