The community support for nonprofits in Michigan's Copper Country hit record levels for #GivingTuesday this year with $659,136.77 being donated and $200,000 being matched by Portage Health Foundation. This week checks to the 26 nonprofit partners will begin to be delivered with the largest check being for $133,539.99 and the smallest being $6,252.46.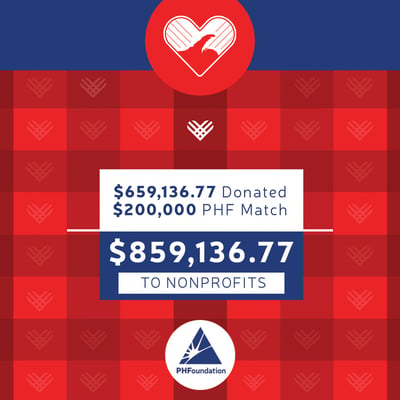 "This year has been remarkable," PHF Executive Director Kevin Store said. "The community turnout is affirmation of the value of the work our nonprofits do to serve and support our community."
This is the sixth straight year the donation amount has been more than the previous year. Last year's total was $443,208.76 meaning donations were up 48.7 percent. Through six years Portage Health Foundation's #GivingTuesday program has raised $2,773,903.51 for nonprofits from Baraga, Houghton, Keweenaw and Ontonagon counties.
#GivingTuesday is a global day of giving that harnesses the collective power of individuals, communities and organizations to encourage philanthropy and to celebrate generosity worldwide. It takes place on the Tuesday after Thanksgiving each year. Locally we call it #GiveCopperCountry where we ask our community to "Put Your Money Where Your Heart Is." The campaign is designed to raise awareness, advocate for the individual causes and help build nonprofits capacity to fundraise.
Nonprofits in the community were invited to apply to be a partner in September, the partners were announced in October and donations opened in November, culminating with #GivingTuesday itself on Tuesday, November 29. Follow Portage Health Foundation on Instagram, Facebook or Twitter to see check presentations over the coming days! Learn more about Portage Health Foundation's #GivingTuesday campaign at phfgive.org/givingtuesday.
UPDATE: Below are the totals for each nonprofit organization!
31 Backpacks, $59,762.85




Ahmeek Village Volunteer Fire and Rescue, $6,252.48

Baraga County Shelter Home, $17,542.04

Barbara Kettle Gundlach Shelter Home, $43,991.85

Big Brothers Big Sisters of the Western UP - UP Kids, $30,179.22

Bootjack Fire & Rescue Foundation, $16,030.17

Camp Josh, $9,741.88

Copper Country Angel Mission, $49,259.30

Copper Country Habitat for Humanity, $21,966.17

Copper Country Junior Hockey Association, $12,296.99

Copper Country Senior Meals, $25,779.37

Copper Harbor Trails Club, $117,556.66

Dan Schmitt Gift of Music, $8,531.34

Dial Help, $30,107.49

Friends of the Porcupine Mountain Wilderness State Park, $9,257.84

Keweenaw Family Resource Center, $17,746.85

Keweenaw Nordic Ski Club, $20,447.67

Keweenaw Random Acts of Community Kindness, $6,461.78

Little Brothers Friends of the Elderly, $122,422.38

Omega House, $133,539.99

Ontonagon County Cancer Association, $16,389.31

Ripple Recovery Residence - Great Lakes Recovery Centers Foundation, $14,601.63

Simple Kindness for Youth, $18,309.29

Superior Search & Rescue, $10,336.72

Swedetown Trails Club, $33,898.80

unitē Mental Health and Wellness, $6,726.70