In the last decade, Michigan has put forth a great effort to require mental health and crisis intervention training for law enforcement. Despite the lack of mandated training in this particular field, officers do their duty and respond to help with mental health crises every day. Now, local law enforcement is ahead of the curve after partaking in supplementary crisis intervention training.
Lieutenant Nick Roberts, of the Houghton City Police Department, has been working to close this training gap for over a decade. Lt. Roberts introduced the Behavioral Health Emergency Partnership Training program, created by the Cardinal Group II, to the Houghton Police Department and other local law enforcement agencies in an effort to give officers a chance to learn vital on-the-job skills.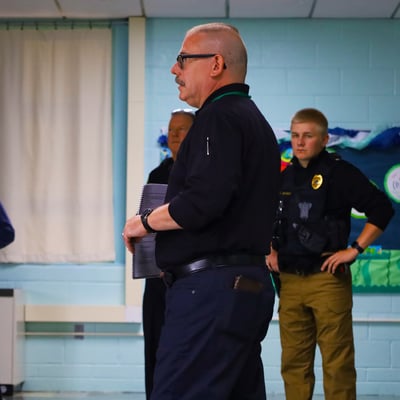 Cardinal Group II offers interpersonal communications training for police service professionals, as well as other leadership and public safety training.
"I feel the best way we can support is to have all of our officers go through the training. Those who go through the training come out ahead of the game," said Lt. Roberts.
Behavioral Health Emergency Partnership is a training initiative designed to teach officers how to effectively respond to a mental health crisis without escalating the situation. The training consists of three parts, Pre-Course Online Training, Classroom Instruction and Scenario Based Training.
Whether an emergency causes concern for one's immediate safety, or simply guiding someone through a legal process, it is important that police officers have both an understanding of behavior in crisis and how their own behavior should change accordingly. As Lt. Roberts explained, many of the skills taught in the training go into use right away.
"When you get pulled over for a traffic stop, police officers have to understand that it's probably not going to be taken as a positive situation," said Lt. Roberts. "We just brought them into a situation that may put them in crisis, and we need to do our best to walk them through that."
In response to a nationwide, state and local push for mandated training on mental health, local law enforcement agencies are stepping up to the task, even certifying a team of trainers for the first time in the Upper Peninsula.
Lt. Roberts, Houghton County Sheriff Joshua Saaranen, and Copper Shores Community Health Foundation's Director of Community Outreach and Prevention Kristine Martens will make up the first team in the Upper Peninsula certified to conduct the Behavioral Health Emergency Partnership training for other law enforcement in the Copper Country and across the U.P.
"I think it's going to help give our officers a lot of skills that they did not have before to respond to people in the community who have some of the diagnoses that we talked about," said Martens.
The skills taught in the Behavioral Health Emergency Partnership training are often learned on the job, when a crisis is already well underway. Now law enforcement has the opportunity to get ahead of crises and learn how to de-escalate, stay calm and save lives before it's too late.
If you would like to bring Behavioral Health Emergency Partnership training to your department, you can do so free of charge. Contact Lt. Roberts by calling the City of Houghton Police Department at 906-487-5912.