Portage Health Foundation (PHF) is pleased to announce the 26 local non-profit organizations participating in its sixth annual #GivingTuesday, which is on Tuesday, November 29, 2022.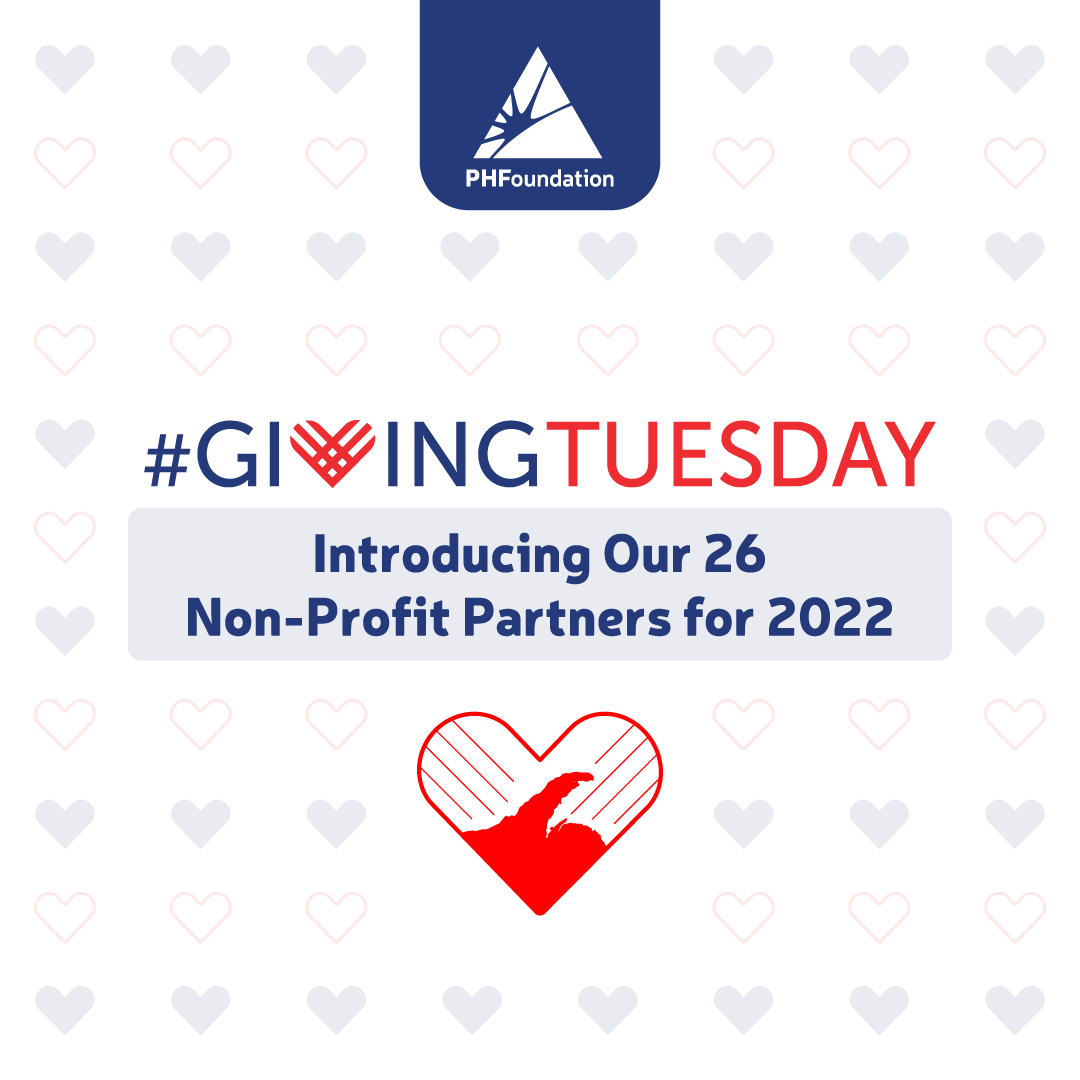 The new non-profit organizations of 2022 #Giving Tuesday are as follows;
Bootjack Fire & Rescue Foundation
Camp Josh
Copper Country Junior Hockey Association
Ripple Recovery Residence - Great Lakes Recovery Centers Foundation
unitē Mental Health and Wellness
Along with the five new partners, PHF welcomes back;
31 Backpacks
Ahmeek Village Volunteer Fire and Rescue
Baraga County Shelter Home
Barbara Kettle Gundlach Shelter Home
Big Brothers Big Sisters of the Western UP - UP Kids
Copper Country Angel Mission
Copper Country Habitat for Humanity
Copper Country Senior Meals
Copper Harbor Trails Club
Dan Schmitt Gift of Music
Dial Help
Friends of Porcupine Mountain WSP
Keweenaw Family Resource Center
Keweenaw Nordic Ski Club
Keweenaw Random Acts of Community Kindness
Little Brothers Friends of the Elderly
Omega House
Ontonagon County Cancer Association
Simple Kindness for Youth
Superior Search & Rescue
Swedetown Trails Club
#GivingTuesday is held on the Tuesday after Thanksgiving, with the intention of kickstarting the holiday season with kindness and giving. Through #GivingTuesday community members are able to "put their money where their heart is" and give back to organizations that have a direct impact on their lives.
PHF will be matching donations dollar-for-dollar up to a certain amount. That toal is yet to be determined for 2022.
Through five years, the #GivingTuesday campaign has put nearly $2 million into nonprofit organizations in Houghton, Baraga, Ontonagon, and Keweenaw counties. This year having at least two organizations in each county, the community can focus on giving back to the Copper Country as a whole.
Donors may make their donation to one specific nonprofit organization or they have the option to split their donations between all 26 non-profits. Starting in early November, donations can be made online or mailed to Portage Health Foundation; 400 Quincy Street; Hancock MI 49930. Checks must be written to Portage Health Foundation with the organization who the funds are designated for noted along with the check.
Learn more about Portage Health Foundation's #GivingTuesday campaign at phfgive.org/givingtuesday.