The 2022 Spark Plug Awards took place Thursday, March 3 and two Portage Health Foundation staffers were recognized as nominees for Young Professional of the Year – Dr. Michelle Seguin and Michael H. Babcock (pictured here presenting Project of the Year to Detective Lieutenant Charlie Klein).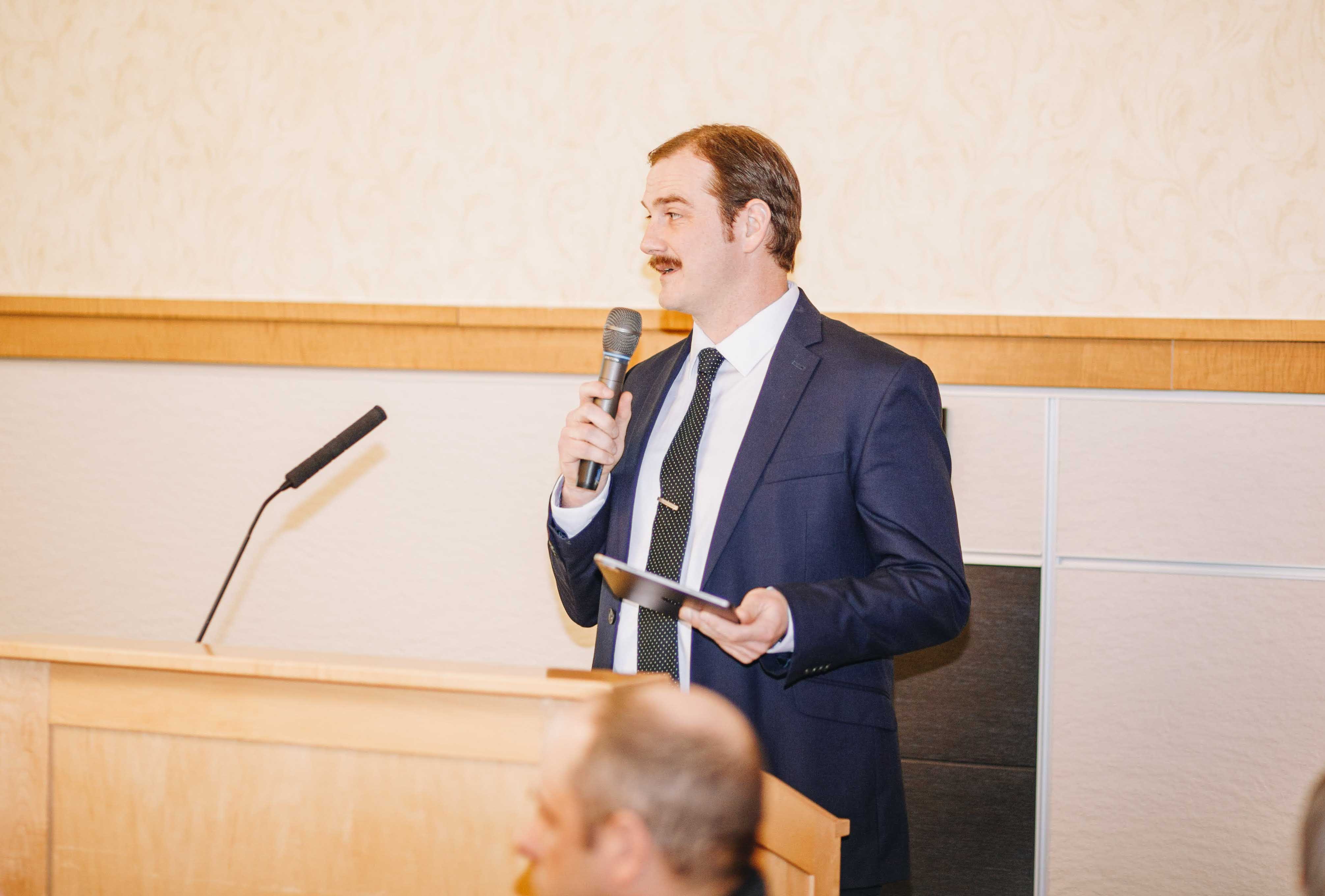 "We want to congratulate all of the people who were recognized at this event," PHF Executive Director Kevin Store said. "We're honored to have been able to partner with many of them and we are very proud of the PHF staff members who received community recognition."
This year's event saw a record number of nominations and event attendees. It also included two new categories – First Responder of the Year and Youth Contributor of the Year. Portage Health Foundation was proud to be one of the lead sponsors for the event for the first time this year providing a donation to the Keweenaw Chamber of Commerce to make the event happen and helping with membership on the event's organizing committee.
A couple PHF partners were recognized during the event with Dial Help / Rebecca Crane being recognized as the Community Contributor of the Year and Houghton County Sheriff's Office / Detective Lieutenant Charlie Klein earning Project of the Year for their effort with Project Lifesaver. Many more partners were nominated.
This is the fourth straight year the organization or its employees have been nominated and makes six total nominations for PHF. In 2018 it received a special Copper Country Strong Spark Plug Award and in 2018 and 2019 it was nominated in the customer service category. There was No Spark Plug Awards event for the year 2020.
PHF Spark Plug Awards Nominations and Awards
2017 – Innovation / Transformation
2018 – Customer Service
2018 – Copper Country Strong Spark Plug Award
2019 – Customer Service
2021 – Young Professional of the Year (Dr. Michelle Seguin)
2021 – Young Professional of the Year (Michael H. Babcock)
Learn more about the Spark Plug Awards at keweenaw.org/sparkplug-awards/.