In this episode of the PHF Podcast we continue previewing #GivingTuesday by interviewing two of the 26 amazing nonprofit organizations who are seeking donations this year. Portage Health Foundation is matching $200,000 once again this year and donations are being accepted now at phfgive.org/givingtuesday.
Copper Harbor Trails Club's Mighty Match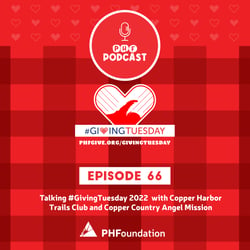 We start by talking with Nathan Miller from the Copper Harbor Trails Club about a new match they have. Their friends at SRAM are matching up to $500,000 in donations they receive. The bike corporation will be matching whatever cash the Trails Club receives from #GiveCopperCountry! In addition to the match and discussing trail upgrades they have planned, Miller talked in detail about the huge land acquisition made by The Nature Conservancy. This should lead to greater opportunities in the long run for Keweenaw County and Copper Harbor Trails Club. You can learn more about that acquisition in a Copper Country Today podcast that aired November 6.
Copper Country Angel Mission's New Location
Sherry Middlemis-Brown and Copper Country Angel Mission made one really big move following their inaugural participation in #GivingTuesday with Portage Health Foundation. They were able to leverage the $24,000+ they received in donations last year into a down payment and crowdfunding effort to land them a location of their own for the first time. Middlemis-Brown discusses the new location in depth and highlights what they have going on next.
To make a donation to support Copper Harbor Trails Club, Copper Country Angel Mission or any of the other 24 organizations participating in PHF's #GivingTuesday, visit phfgive.org/givingtuesday.