Nonprofit organizations in the U.P. now have another opportunity for funding with the Michigan Nonprofit Relief Fund. Amy Quinn joined us to talk about the opportunity, which ranges from $5,000 to $25,000 to nonprofit organizations in Michigan. Quinn is a member of the statewide committee directing the fund, and the CEO of Grow and Lead, an Upper Peninsula-based organization that works to support nonprofits.
"When the pandemic hit, nonprofits really stepped up in a big way," said Amy Quinn, CEO of Grow and Lead. "They took a large hit… and MI Nonprofit Association (MNA) recognized that, and they started meeting with our legislators over two years ago to say we need a relief fund, specifically for nonprofits."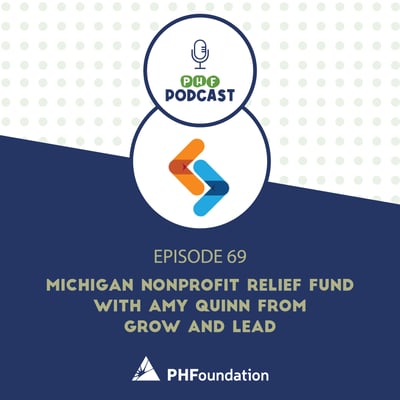 Quinn has been serving on the statewide committee since November and serves as a voice for people from the Upper Peninsula, where she works to make sure that money is "coming up above the bridge."
Michigan passed a state budget with $50 million towards a nonprofit relief fund, jointly administered through the department of Labor and Economic Opportunity (LEO) and MNA. Organizations that have an annual budget of less than $1 million, and/or are serving Asset Limited Income Constrained Employed (ALICE) populations will be given priority.
"We want to try to build up nonprofits and especially buildup the working middle class," said Quinn.
Nonprofit organizations that sign up for relief funds may receive a minimum of $5,000 and maximum of $25,000. MNA is asking nonprofits to fill out the Intent to Apply form available on their website. It takes approximately 20 minutes to fill out the form, which is not required but highly encouraged. Doing so helps the state committee know how to better serve the organizations.
"What do small profits need, and how on a statewide scale might we help them," Quinn said.
Nonprofits are eligible even if they have received ARPA funding before, but it must be used for a different purpose than the previously received funds. Organizations do not need to be a part of MNA to benefit from the funding.
Quinn believes that there is a critical link between the benefits of community nonprofits and creating a great environment for U.P. youth.
"There's money available, let's bring it up here to the U.P.," Quinn encouraged. She said the money is "accessible to as many nonprofits that are interested in receiving the money. We want to make sure that we can reach all nonprofits, and particularly it was designed for those smaller nonprofits."
The application for the fund will come out at the end of March. The deadline for the application will be in early May, and the funding decisions will be made in June. Learn more and fill out the Intent to Apply at minonprofitrelief.org.