The Keller Family Community Foundation (KFCF) and Portage Health Foundation (PHF) are proud to announce the creation of The Keller Family Community Foundation "Ride with Claudia" Transportation Fund. The endowed fund will help offset travel expenses for cancer patients in Michigan's Copper Country for many years to come. Donations are being accepted now to the fund.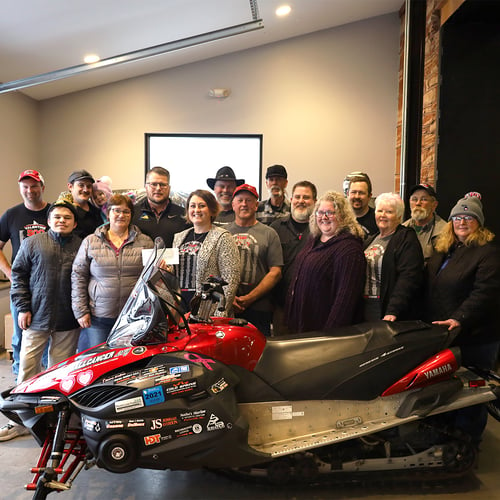 The Keller family started raising funds while veteran snowmobiler Nick Keller contemplated the idea of breaking a world record for the most miles snowmobiled over 60 days. In 2010 he completed the task and made the news again in 2011 when he broke his own record. They knew they could use this as an opportunity to give back, and immediately gravitated toward the idea of helping families who are battling cancer because of the experiences they had. Nick's mother had died from breast cancer at the age of 56 when he was in his 30s.

"My dad was getting very reflective at the time and wanted to do something in memory of his mother," Julie (Keller) Dornbusch said. "Our family has always believed in giving back to the community and being generous. This is just part of who we are and what we've done. We realize the funds we raise can't cover everything a family has to worry about, but it will lessen the burden on people who are in a very difficult spot."

The KFCF has been providing funds to people in Michigan, Wisconsin and Minnesota for many years. It's now resulted in more than $100,000 locally and a half million dollars total. The next step, the family hopes, is that the amount of money given to patients will grow with the endowed fund at PHF.

"Our hope is that we've started these funds and more folks will get behind them and they will be self-sufficient and grow," Dornbusch said. "We've been blessed and honored to have supporters and to give the money. Now that we have a perpetual fund, we want to see that fund become more robust so more funds can help more people."

The endowed fund is being started with the $83,000 investment from the Keller Family Community Foundation. The funds will be made available to confirmed residents of Baraga, Houghton, Keweenaw and Ontonagon counties who are receiving cancer-related medical care and treatment at UP Health System-Portage. Those who want to add to the fund are invited to do so at phfgive.org.

"This family has done incredible things for our community over the last decade, and we couldn't be happier to be part of it," PHF Executive Director Kevin Store said. "This endowed fund will ensure that their vision of helping families battle cancer will continue into perpetuity."

The Keller Family Community Foundation is a non-profit foundation based out of Richmond, Minnesota. It focuses on raising awareness, resources and money to help people with cancer and their families. They've planned many events in the Midwest including several upcoming ones. Learn more about their work at snowballcancer.org.

Learn more about Portage Health Foundation and donate to support The Keller Family Community Foundation "Ride with Claudia" Transportation Fund at phfgive.org.