New #GivingTuesday partner needs your support this year
The Ripple Recovery Residence has joined Portage Health Foundation's nonprofit partner list for #GivingTuesday for the 2022 campaign. The Ripple Recovery Residence is located in L'Anse and is a branch of Great Lakes Recovery Center. The Ripple Recovery Residence is a women's recovery house, which promotes a safe and supportive space for overcoming addiction and working toward a life of sobriety.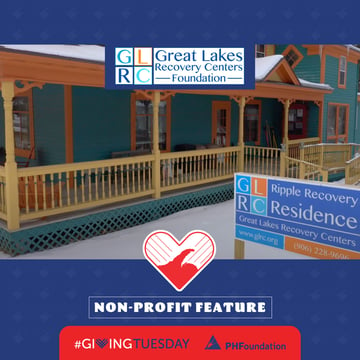 Residents Barbie and Victoria joined GLRC Case Worker Michelle Sanregret for a conversation with PHF for an interview to ensure the community knows just how important this recovery residence is.
"Baraga is my hometown, it's hard to stay sober and stay in recovery in your own home," Barbie said. "You're always surrounded by your old habits. I wanted recovery, I tried multiple times, I knew what needed to be done, I knew the steps of recovery. I just couldn't do it by myself."
Ripple Recovery Residence is a community of like-minded people all fighting for the same thing, the residences and staff are all fighting for each individual's recovery. The residence ensures accountability to help achieve the goals.
While in the residence house, individuals must meet requirements, such as counseling services, meetings with a case manager, maintaining employment, meetings with a sponsor/recovery coach as well as attending four self-help meetings a week. Although this may seem like a lot to accomplish weekly, many of these programs are "in house" and make it easy for attendance. Victoria goes on to discuss how these requirements, while being a resident have helped her path in recovery. "I came to Baraga for a fresh start," she said. "Somewhere far from home. While at the Ripple Recovery Residence I've gotten a stable job, I've gone to a doctor for the first time in 15 years. I've met so many new people and learned to love myself and others".
The Ripple Recovery Residence has enough space for eight individuals. With these residence spaces, they are able to achieve the Great Lakes Recovery Center's mission to "empower recovery through hope and change" with a handful of individuals at a time. Sanregret, goes on to talk about why recovery residences in communities are so important. "Stages of sobriety are not easy," she said. "It's not just stopping your addiction, it's also working and expanding on behaviors and thoughts." She encourages her residence that "recovery is possible. There will be tough times, but with each hurdle you jump over, it strengthens you for the future." The Ripple Recovery Residence is the support and strength the residents need if they find themselves not strong enough to overcome their addiction on their own.
If you'd like to donate to support the Ripple Recovery Residence of Great Lakes Recovery Center this #GivingTuesday, visit phfgive.org/givingtuesday. You can learn more at greatlakesrecovery.org/recoveryhousing or follow GLRC on Facebook.