Celebrate and support our nonprofit community on #GivingTuesday
Portage Health Foundation is looking for restaurants within Houghton, Baraga, Keweenaw and Ontonagon counties to partner with for Dining for Donations on #GivingTuesday. Dining for Donations is a community celebration where residents are invited to go out and eat to show support for our non-profits. Then, those restaurants will donate proceeds from that day to the 26 nonprofit organizations of #GivingTuesday 2022.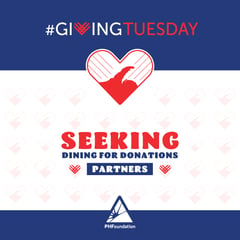 Establishments who choose to partner for Dining for Donations will be asked to have a system in place for donations on November 29, 2022, which is the day of #GivingTuesday. That could be a specific dish having donations made, a percentage of proceeds or a specific amount for every person that comes in. How a restaurant chooses to make donations will be up to each restaurant.
By being a part of Dining for Donations, the restaurant will be provided with marketing materials as well as being featured in PHF's Dining for Donation Meal Guide, making it easy for residents to know where to dine-out and support the nonprofit organizations.
Those interested can visit phfgive.org/givingtuesday and fill out the restaurant partner form. You can also contact Media Intern Kiera Raymond at (906) 523-5920 or email commintern@phfgive.org. Area restaurants are asked to submit the restaurant partner form by 11:59 p.m. on Tuesday, October 25 to ensure their restaurant will be able to fully participate.