Your business doesn't have to be big to have a big impact on the community. We're encouraging businesses to raise funds between the employees/customers in fun ways and practical ways to maximize a donation to the Copper Country #GivingTuesday.
What is #GivingTuesday?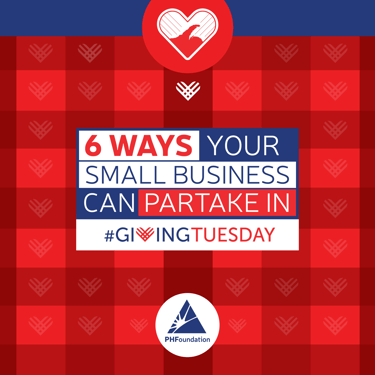 Before we start with, let's learn more about #GivingTuesday.
#GivingTuesday is the Tuesday after Thanksgiving. It is a global generosity movement unleashing the power of people and organizations to transform their communities and the world. Portage Health Foundation partners with nonprofit organizations in the Houghton, Keweenaw, Baraga, and Ontonagon counties, raising funds and awareness to allow for a healthier and happier community. All money raised during #GivingTuesday stays in the four counties we serve. In the past five years, more than $1.9 million has been raised, with every penny going directly to nonprofit organizations.
Small Businesses Participating in #GivingTuesday
Start by asking your employees if this is something they want to participate in. As a group, determine if you'll be raising money for one specific nonprofit organization or have the total raised split among all 26 nonprofit organizations. Once you've decided that, it's time to find what idea works best for your business.
Set up an "extra change" jar: If your business is the type where pennies and dimes are given out between coworkers or customers, have an option for loose change to go to #GivingTuesday. It may not seem like a lot, but loose change adds up and really makes an impact for these nonprofit organizations. Many businesses could also do a "round up" charge on credit cards if transactions are present.
Office Karaoke: Bring in a karaoke machine and allow your employees to have some fun. Charge $1 per song they sing and charge $2 to "make the madness stop." Remind your employees that all proceeds are going to local nonprofit organizations and to choose some fun songs!
Host a Cook Off: Who doesn't like a good chili cook off? Determine the category for your cook off, whether it be chili, deserts, or more and allow lunch period to be extended for the cook off. Employees can participate by making a donation to be a part of the cook off or they can donate to be an "eater only."
Get Sweaty: Host an athletic competition between co-workers after hours. Whether that be a dodgeball tournament or 3 v 3 basketball. Charge a team entry fee and then a small fee for spectators, being very clear all funds will be be going to #GivingTuesday on behalf of your business. Tip: upcharge some concessions at the game and have all proceeds contribute to your donation.
Casual Day: Everyone loves a good work day in jeans and a t-shirt rather than a button down or cardigan. Charge $1 to allow employees to wear jeans in the office on a designated day, or really appeal to your employees and charge $5 to allow sweatpants.
Match your Employee Donations: Ask your employees to make a donation and then match their donation! Employees are more likely to donate if they see their organization is excited to donate to the nonprofit organizations as well!
Learn more about #GivingTuesday and meet the 26 local organizations benefiting from your donation at phfgive.org/givingtuesday. If you have questions, or want to share an idea you have, email commintern@phfgive.org. If you promote what your business is doing on social media, use the #GiveCopperCountry to stay in our community's #GivingTuesday campaign.