Portage Health Foundation is passionate about making a difference when it comes to food in Baraga, Houghton, Keweenaw and Ontonagon counties. PHF's Food Initiative is two-fold. First, the food initiative aims to improve access to locally grown and healthful foods within our community. Second, it provides educational resources and tools to promote sustainable changes to eating and lifestyle habits for all. We'd love for you to make a financial donation to our Food Initiative.
This issue has been vital to us since day 1, and it's taken many forms over the years. Below we invite you to learn about some of those efforts.
Farmers Market Support
We're proud to support Farmers Markets in Michigan's Copper Country. Below you'll find a schedule of local markets for the summer of 2022.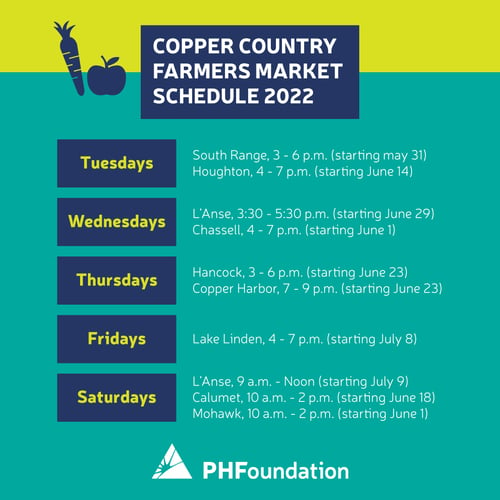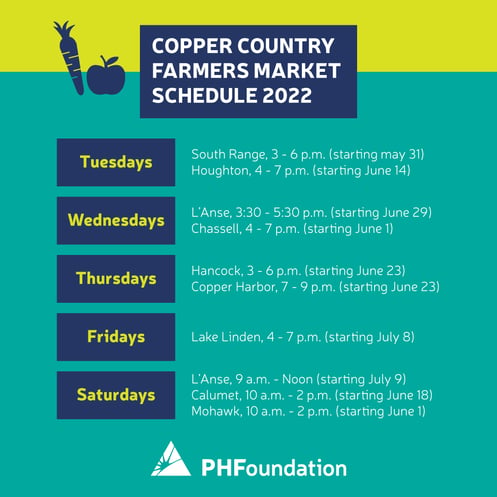 Stop the Roar of Hunger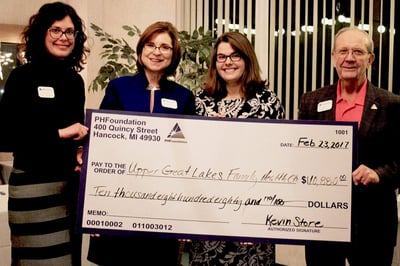 You can't hear it, but our community is certainly feeling it - the roar of hunger. We're partnering with organizations like 31 Backpacks, Feeding America, Ontonagon County Backpack Program and the Western U.P. Food Bank to make sure no one in our community goes hungry.
Agricultural Economy
Back in the hay day, Michigan's Copper Country produced food for itself with countless farms between Eagle Harbor and Bruce Crossing. We're looking to find ways to help bring that agricultural side of our economy back, including supporting farmers' markets throughout our region.
Community Gardens
The foundation created a specific request for proposals (RFP) in 2020 to increase local food production and access to fresh and healthy produce, provide opportunities for education across the lifespan, and to create shared green spaces that foster social connection among community members through community gardens.
Biblio Bistro

We've partnered with the Portage Lake District Library for the Biblio Bistro series. This online video series strives to show that healthy cooking doesn't have to be boring or laborious. The goal is to make participants feel more confident and curious in the kitchen, all the while increasing fruit and veggie intake and supporting the local food system.
Collective CSA Program
In the summer of 2020 we debuted a new program called the Collective CSA Program. CSA stands for Community Supported Agriculture, which is something we introduced 20 families to. Below is more on that.
Healthy, Local Recipes
In the summer of 2020 we're proud to support the local farmers markets by creating recipe cards featuring items you can find at the markets! These recipes are easy, fun, healthy and delicious. Some of them were featured during the Biblio Bistro video series, others are simply available for you to check out. If you want a print version of one of these, stop by one of our local markets!
Keweenaw Grown Foods
We believe a vital factor to a healthier tomorrow involves improved access to fresh, nutritious and locally sourced foods. Better yet, the knowledge of what to do with those foods once you've got them. This is where the Keweenaw Grown Food series steps in. This series includes recipes and educational flyers that feature information on peak season, how to select/store, health benefits and ways to use different types of fresh, locally grown food.
Support the Food Initiative
We're passionate about making a real difference when it comes to food in Baraga, Houghton, Keweenaw and Ontonagon counties. If you are also passionate about those things, we'd love to have you join us on this journey.
Subscribe for Update
Every season we'll be putting out an email with updates on our Food Initiative. That will include project updates, volunteer opportunities, health advice, resources to grow and/or buy food locally and more.
Donate to PHF's Food Initiative
Everything we're doing for our food initiative is dependent on funding. If you believe in this mission and are able to support it, we would love to see you support it with a monetary donation. You can do that via the form below, via phone at (906) 523-5920 or by mailing a check to Portage Health Foundation; Food Initiative; 400 Quincy Street; Hancock, MI 49930.
Questions or comments?
We'd love to hear from you. You can call us at (906) 523-5920 or email info@phfgive.org.