Portage Health Foundation (PHF) is searching for businesses to sponsor their Giving Tuesday fundraiser on December 1, where they will be matching $200,000 in donations to support 18 local non-profit organizations. PHF has two tiers for sponsorship.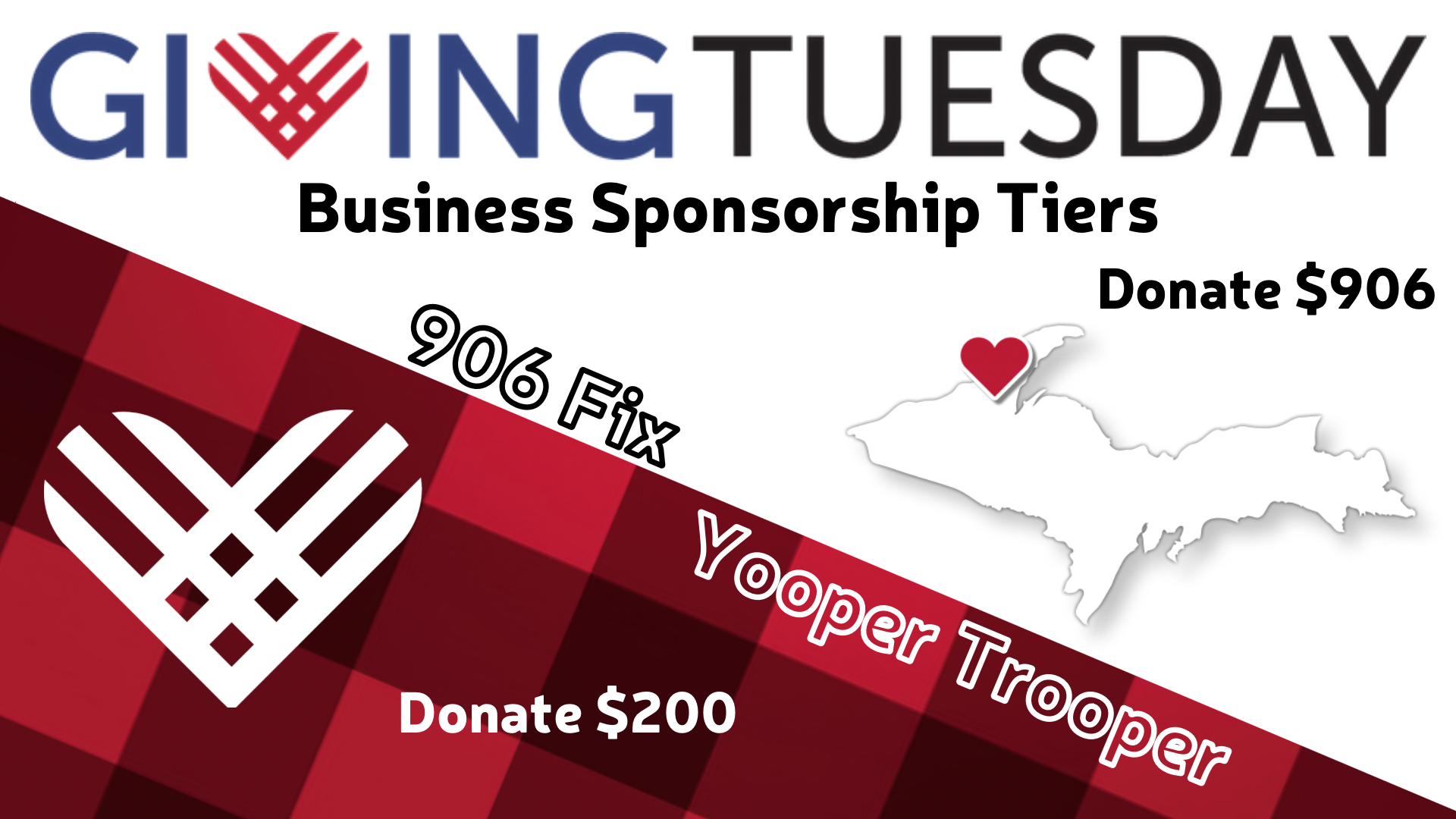 The first tier will be called Yooper Trooper, which is achieved with a donation of at least $200. Through this donation your business will be thanked on a PHF Podcast and featured on their Facebook, Instagram and LinkedIn story as sponsors for Giving Tuesday.
The second tier will be called 906 Fix, which is achieved with a donation of at least $906. Portage Health Foundation will have a donation gauge up and your business will be featured with it. Through this donation your business will be mentioned on PHF Podcasts and featured throughout social media leading up to Giving Tuesday on December 1.
Those interested can visit phfgive.org/givingtuesday and fill out the business sponsor form. You can also contact Media Intern Ariele Kauppila at (906) 299-0766 or email commintern@phfgive.org.
About Giving Tuesday at PHF
The foundation has helped put nearly $700,000 into community nonprofits since 2017 as part of Giving Tuesday. This year, PHF will be matching up to $200,000 in donations for the 18 non-profits that are participating.
Giving Tuesday 2020 Nonprofits
Swedetown Trails Club
Superior Search & Rescue
Simple Kindness for Youth (SKY)
Ontonagon County Cancer Association
Omega House
Little Brothers Friends of the Elderly
Keweenaw Random Acts of Community Kindness
Keweenaw Family Resource Center
Friends of Porcupine Mountains Wilderness State Park
Dial Help
Dan Schmitt Gift of Music
Copper Harbor Trails Club
Copper Country Senior Meals
Big Brothers Big Sisters
Barbara Kettle Gundlach Shelter Home for Abused Women
Baraga County Shelter Home
Ahmeek Village Volunteer Fire & Rescue Department
31 Backpacks
Donations for #GivingTuesday are currently being accepted at phfgive.org/givingtuesday.