$671,692 provided to non-profits during first three years
Portage Health Foundation (PHF) is proud to announce 18 local non-profit organizations are participating in its fourth annual Giving Tuesday program on December 1. This year will feature a dollar-for-dollar match up to $200,000 total.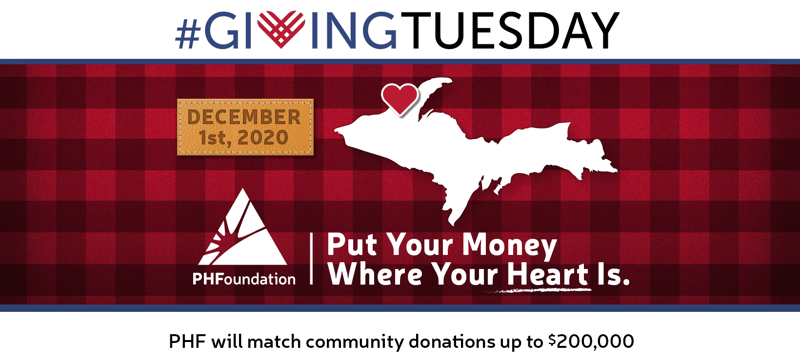 This year's non-profits are Swedetown Trails Club, Superior Search & Rescue, Simple Kindness for Youth (SKY), Ontonagon County Cancer Association, Omega House, Little Brothers Friends of the Elderly, Keweenaw Random Acts of Community Kindness, Keweenaw Family Resource Center, Friends of Porcupine Mountains Wilderness State Park, Dial Help, Dan Schmitt Gift of Music, Copper Harbor Trails Club, Copper Country Senior Meals, Big Brothers Big Sisters, Barbara Kettle Gundlach Shelter Home for Abused Women, Baraga County Shelter Home, Ahmeek Village Volunteer Fire & Rescue Department, and 31 Backpacks.
Giving Tuesday is held annually on the Tuesday after Thanksgiving, and the widely recognized shopping events Black Friday, Small Business Saturday and Cyber Monday. It's meant to kick off the holiday giving season by inspiring people to collaborate in improving their local communities and to give back in impactful ways to the charities and causes they support.
Through three years, this campaign has put nearly $700,000 into local non-profits through $383,312 in donations, and another $288,380 matched by PHF. Information on how to donate will be released closer to Giving Tuesday.
If you want to make sure you don't forget to make a donation, you can sign up for an email reminder by visiting phfgive.org/givingtuesday.