New equipment partially funded in 2021 by Portage Health Foundation
When most people think of the brave volunteer firefighters and first responders in Stanton Township, they likely think of hot environments like a house fire or their live fire training facility. But this winter they got to experience the exact opposite of that as they trained with the U.S. Coast Guard on how to use the department's brand-new grant-funded ice rescue equipment.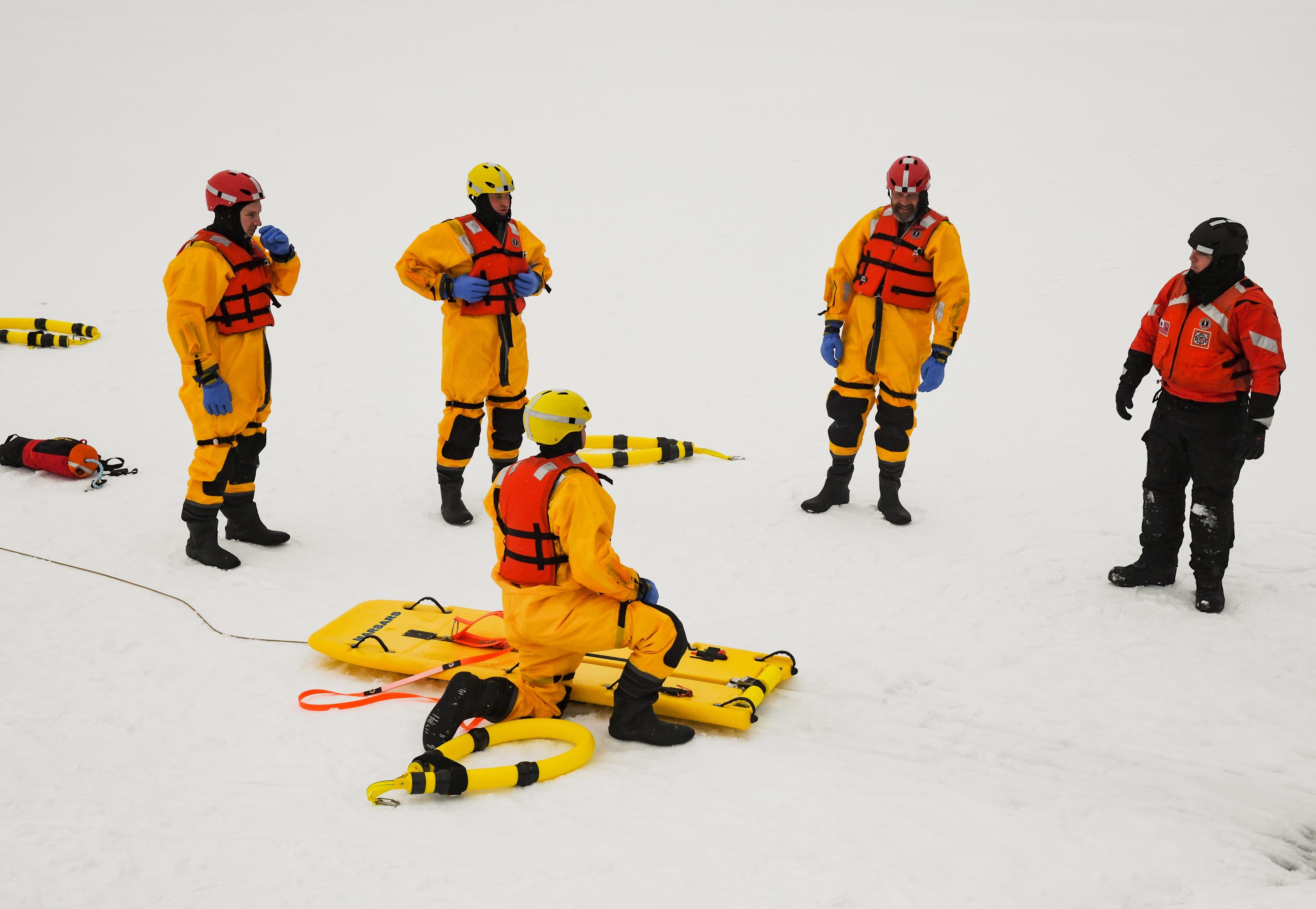 "With this new equipment we're cutting the response time for someone who fell through the ice by at least 50 percent," said Jon Stone, Training Officer with Stanton Township Fire Department. "A lot of things that we're elevating as community response capabilities are only possible because of the partnership with Portage Health Foundation (PHF). These are substantive increases to the capabilities of our local agencies that our community relies on."
PHF is currently accepting applications from volunteer agencies like Stanton's for up to $5,000 in funding with a 50-50 match required. The deadline for applications is May 18.
Ice rescue equipment like what Stanton purchased is also owned by a few other Copper Country first responders. However, even nearby departments getting that equipment out to the many remote waterfront locations in our region is tough.
"Last year we had an incident that our deputy chief and a deputy from the Sheriff's Office responded to involving a couple that fell through the ice at Stanton Township Park at breakers," said Stone. "It was a good ending to that story, but it was only because he had a rope in his truck that they could throw out. The people were in a bad way, and it could have been a bad outcome."
The new equipment does come with a set of challenges, though. How do you train to use it? Specifically, how do you train to use it in a meaningful way? That's where a new partnership opportunity with the U.S. Coast Guard came through.
"We're surrounded by water on all sides so having training like we were able to get was incredible," Stone said. "They have amazing capabilities right in Dollar Bay. We spent four hours in and out of the icy water trying all kinds of different scenarios. There was no rush – every person got to go through each scenario to learn the skillset."
The setup for the Coast Guard included open water created with a bubbler. That allowed much more realistic training opportunities.
"Every scenario that we could think of we were able to do multiple revolutions of," Stone said. "Our group left with competence and confidence that they could put that gear on and safely perform a rescue."
In total Portage Health Foundation awarded 13 organizations an emergency services grant in 2021. More photos from the training Stanton Fire Department did can be found on the Liminga Fire – Stanton Township Department Facebook page. More information on the Volunteer Emergency Services Request for Proposals can be found at phfgive.org/grants.